OMGZ! I just discovered a super creative and fun way to post all those stupid, pointless little things I want to blog about, but lack the whole "enough content to write an entire post about". Me? Way behind the eight ball? Possibly...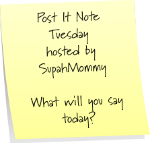 For those of you who are like me and until this glorious moment were ignorant to what Post It Note Tuesdays were, go check out Wannabe SupahMommy and get the four one one on it.

Or you can be a complete waste of bandwidth and just read my post its... you lazy sumbitch.