It's that time of the week again! TMI Thursdays... if my own story doesn't quench your thirst for inappropriateness, go check out the rest of them at Liv It, Luv It.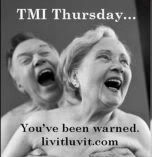 Disclaimer: I have had a few new followers to this blog that know me personally… but may not know the TMIT side of Jeney quite yet. So read on if you guys
dare
wish, but I am warning you that this may not be something you necessarily want to know.


On with it!
**
So recently my roommate's boyfriend moved in with us due to some personal problems he was having at his old place. Despite the initial
"Woah, woah, woah. Woah!"
reaction I had at first, it is turning out to be an awesomely fantastical arrangement. As a matter of fact, he makes a mean macaroni and cheese that I would probably turn down sex for. He also knows how to make some kick-ass sweet tea. And did I mention he takes the garbage out for us?
The only real downside to my newest roommate is his voice. He has one of those deep, booming, voice-of-god type tones that I can hear through my bedroom wall regardless of how quiet he is trying to be. This, of course, makes sleeping a little difficult.
So after a few nights of sleeping under my pillow, a couple more of sleeping backwards on my bed, and a $20 sound machine later we decided the best way to solve this issue was to flip my room around.
Now, I have one beast of a bed. It's the kind with a mother fucker of a headboard and drawers underneath the mattress rather than a box spring. We actually had to completely disassemble the thing just to put it on the opposite wall. (I am also burning it before I have to move it to another place.)
Before we started taking the bed apart to move it, I suddenly remembered that the um… ::ahem::
new toy
I bought myself for my birthday was in one of the drawers under my mattress. Upon realizing this, I stealthily jumped across my bed, whipped open the drawer, and shoved it under some clothes all before BDubz and the new roomie walked in. Whew! Awkward moment averted.
Or so I thought… it wouldn't be a real TMI Thursday if I did in fact avoid an embarrassing and altogether uncomfortable situation, now would it?
I swear to all that is holy, I never cease to amaze myself. While my own "boyfriend" and all his accessories were safely hidden among my running tights and argyle socks, the packaging he came in that I had completely forgot to throw away was in the next drawer over all by its lonesome self... in all of the Hottie McSugartits package model glory for everyone to see.
All I can say in my defense is at least BDubz hasn't had to flip her room around because of… ::ahem::
my
"boyfriend".